O QUE FAZEMOS
WE CREATE TO FEED THE PRESENT AND THE FUTURE
Izidoro is a 100-year-old that specialises in developing products based on animal and vegetable protein with the best flavour and quality from its origin. 
The control of the value chain is ensured from farming to the distribution of its final products. 
The brand ensures the traceability of its products from their origin by combining the most advanced technologies of analysis and quality and safety control, thus ensuring fresh, flavourful and nutritious food solutions.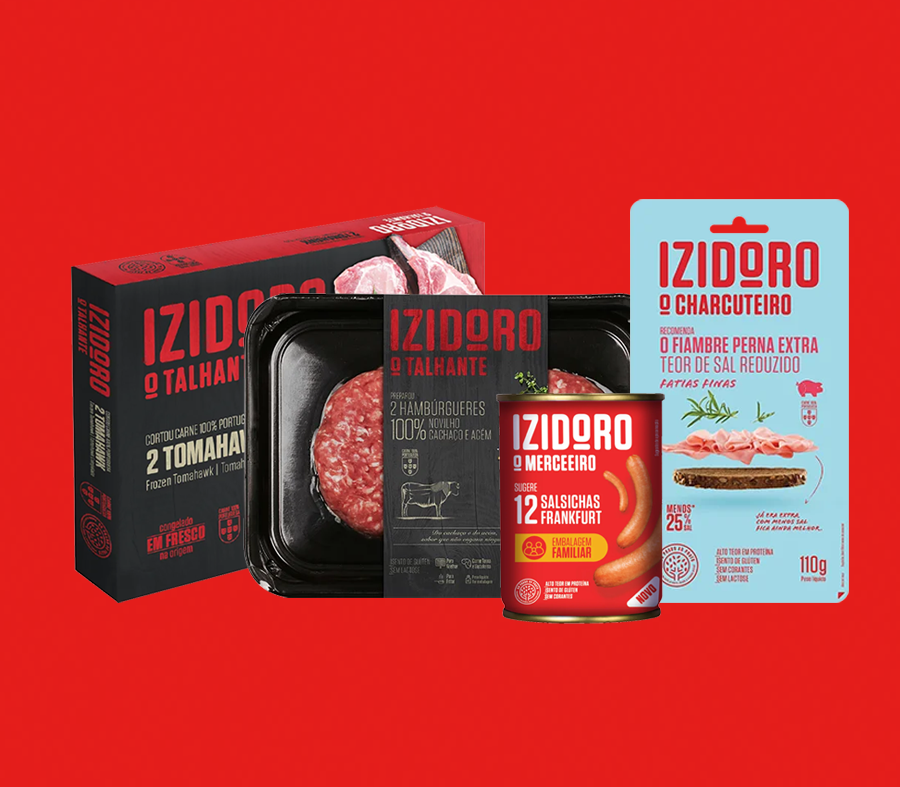 For Izidoro, which views innovation as its main development pillar, evolving livestock production standards and producing nutritionally better and flavoured products is a challenge in constant development.
The brand offers butchery, delicatessen and grocery products, organized into three product ranges: Original range with mainstream products; Healthy range with low-sodium and low-fat and low calorie products; And Gourmet product for true flavour lovers.
The brand Izidoro Veggie Lovers was born to meet the growing demand for a healthier and more varied diet. 
After a decade of perfecting our vegetable protein recipes, the brand presents a range dedicated to 100% vegetable products, with V-Label certification, which are distinguished by their familiar flavour, their national origin and more environmentally friendly ecological footprint.
The DaMatta brand has been a national reference in prosciutto production since 1907.
Originated in Envendos, Mação, this 100-year-old brand features the ancestral know-how of salting and curing whilst respecting their traditions.
The secret lies in the environmental and climatic characteristics of Mação. With a microclimate favourable to the production and drying of the prosciutto, this village presents ideal luminosity, temperature and humidity conditions throughout the traditional production process of the prosciutto.
By combining old recipes and traditional methods with the excellence and quality of our processes, we have created a wide range of products that offer a gastronomic experience that enhances the true flavour of the origins.
DaMatta has always been betting on an exclusive, high quality and genuinely traditional offer of prosciutto, sliced products and chorizo.